At CJSDA, we value the importance of presentation in class and ask that all students wear the correct uniform to class every week. We have a uniform in place for all students for the following reasons:
Uniforms encourage discipline – While coming to the studio can be fun and social, a certain level of discipline is required to ensure all students receive a high standard of teaching. Uniforms are a gentle reminder that when students are in the studio, they are there to learn and focus.

Uniforms are very practical – Dance attire, as opposed to street clothes and other dress-ups, enables the teacher to see all the students movement to ensure they are safely using their body as well as being able to assist the students in proper dance technique progression

Uniforms prevent differences – We pride ourselves on being a studio where all our students feel safe, accepted and part of a community. Uniforms ensure all students can present themselves in the same manner without peer pressure.

Uniforms means it's time to dance! – Associating putting on a uniform with attending dance class helps the students switch into dance mode. A tidy uniform translates to a more focused dancer.
To and from the studio
For the safety and well-being of students attending CJS Dance Academy, please ensure that all students arrive and leave the studio with street clothes worn over their dance clothes. Dance shoes not be should be worn on concrete as it shortens the life of the shoes, and stones/debris brought in on the bottom of the shoes can cause damage to our dance studio floors.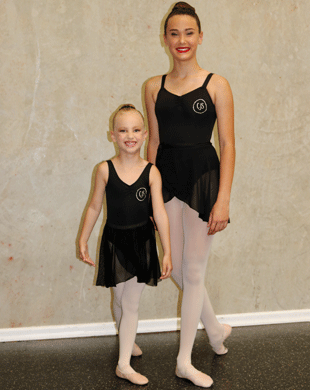 Grooming:
It's important for our little dancers to have as few physical distractions as possible when attending class, so we request that hair be pulled back neatly off the face. Buns are compulsory for ballet and ponytails or a neat braid are acceptable for all other classes.

For safety reasons, no hanging jewellery is to be worn to class (studs or sleeper earrings are acceptable), Medical devices and bracelets are excepted.

All dance clothes must be clean and in a good state of repair. Washing and drying leotards and tights after each wear is strongly encouraged as they can otherwise be a health hazard for your child.

No loose or baggy clothing will be permitted in any class.

Any student NOT wearing the correct uniform will be reminded in class and email sent to parents. Any student not coming to class appropriately attired after two email reminders will be excluded from that class as it is disrespectful to the teacher and other students. If you have any extenuating circumstances, please ensure you email CJSDA to advise us.
Please ensure all uniforms items and drink bottles are clearly labelled with the student's full name. We constantly have a large amount of lost property. This also alleviates personal clothing accidentally going home with the wrong student.
Uniform Requirements:
You can view uniform requirements for each class in our 2020 Handbook and also on this page. All uniform items are available for purchase from reception. If your preferred size is out of stock, we will order it for you.